Quinnipiac students feel the job pressure with graduation looming
Click each picture to learn more about the graduates.
Purchasing a small home in Wallingford, buying a brand new luxury Audi and the tuition for a private school in Connecticut. What do these all have in common? They cost upwards of $70,000.
This year Trinity College in Hartford raised its tuition and fees to this hefty price tag and it's not the only school that is increasing tuition.
For the 2017-18 school year, the price for both tuition and room and board at Quinnipiac University was $63,770 with tuition growing by 6.5 percent from the school year before, according to the National Center for Education Statistics. While 95 percent of students receive aid and 93 percent attain scholarships, this still means most students will be in debt of more than six figures upon graduation, according to NCES.
With the price tag of a degree so high, some students say they feel pressure to major in a field where they'll make enough money to pay back their loans and may decide to choose a job outside their path to make enough to support themselves.
But many students say they are aware of the costs and still only put some thought into their future salaries when choosing their major, according to a survey of 59 Quinnipiac students.
In 2017, 43 students graduated from Quinnipiac with a journalism degree.
The average salary for a news reporter in the market size of 151 and higher, which are the stations with the least number of viewers per area, is $26,000 according to the Radio Television Digital News Association. Usually, entry-level reporters must start in a small market in order to build their reputations and improve their on-air presence.
Victoria Saha, who graduated in 2017, is one of these people.
As a multimedia news reporter for WAOW in Wausau, Wisconsin, Saha is an hourly employee making $12 an hour. If she signs a two-year contract after her three month "trial" when she and the station decide if she should continue, she will be making $24,000 a year.
According to the Wisconsin Department of Health Services, any salary below $24,120 can qualify for food stamps.
"It's kind of sad, no?" Saha asked. "That doesn't really cut it, you know, with taxes and everything. I mean the cost of living here is cheap, but sometimes I feel like it's not enough."
Saha applied to more than 300 jobs and was without work from the time she graduated in May until she was hired seven months later.
While this salary isn't one any student would hope to start out with, Lila Carney, the director of advising and student development for the Quinnipiac School of Communications, said this is something students in this field usually know going in.
"I think students in journalism are aware of the fact that those first jobs in no-mans-land may not pay all that great," Carney said. "But if you do a little bit of sacrificing eventually you make it to a market where you are making OK money. So that little time that you're sacrificing is generally a short period of time."
From the time you are a child, you're asked who you want to be when you grow up. You're told to "reach for the stars" and "follow your dreams." When you apply for college you're told to find what you love.
But you're never told that doing what you love could mean a salary where you could qualify for food stamps.
From one end of the communications department to another, Mike Bonavita is feeling the same struggle.
Bonavita, a senior film major, said if you want to make it in film, you know you'll probably be starting as an assistant or in the mail room.
"It's basically where you want to be and there's a lot of success stories that come out of the mail room," Bonavita said. "In film as a (production assistant) you're not making much. The film industry is tricky that if you're really dedicated and you really want to do it you're going to be working the crappy hours and the crappy days."
But the job front isn't just an issue for communications majors.
When you think of someone starting out in acting, "struggling" is probably a word that comes to mind. It's no secret it's tough to break into this job.
Ryan Devaney, a senior theater arts major, knows this too.
In his first year out of college he hopes to buy a computer, purchase editing software and get a microphone to start a YouTube channel to play songs.
This stepping stone for him is just one step toward his dream of opening his own theater.
"None of that can happen unless I have a stable income," Devaney said. "I won't be able to create my art unless I have a job. It will happen on my off time that I deal with creating art."
But finding that job is also something he has found issue with.
"Right now I don't have anything set currently in my mind," Devaney said. He also knows he has a little more leeway than other people in his major to find a job since his father is a public safety officer at the university and thus he went to school tuition free.
According to NBC News, three in every four millenials, or people born between 1981 and 1996, are in some type of debt, whether this debt be through student loans or credit card debt.
Kevin Daly, an assistant professor of theater at Quinnipiac, knows that the school comes with a hefty price tag which could keep theater majors from wanting to come to an expensive school like Quinnipiac. For this reason, he said the department will be starting a theater three-plus-one program this fall so students can follow their passion in obtaining a theater degree while also graduating with a masters in business.
But working the smaller jobs is no surprise to a theater major, and with just 16 people in the department, each student is taught that in this major, you must follow three points to succeed, according to Daly. Constantly working on your art, networking with people in your chosen industry and using "survivability skills" - like finding a job outside of film to have a stable income - Daly said are imperative to finding a job as an artist.
For this reason, Daly advises his student to double major in other specialties like communications, film or even math to help them find jobs that will pay while also working on their art and networking.
It's not just a matter of landing a job that pays a livable wage, it may also be a matter of finding a job at all in tight markets.
Liam Kenney, a senior biomedical marketing major, is as worried as Devaney.
"It's been quite the struggle at this point," Kenney said. "A lot of the pharmaceutical companies, medical device companies, they want experience. It's difficult to find that experience because we're entry level people."
Kenney said once he does nail down a job, starting salaries in his business aren't what he hoped they would be.
"It's hard because when you start off in marketing and sales you start off with very low pay," Kenney said after applying for one job at $45,000. "You don't make commission in your first year and after your first year they cut you salary by $10,000 because you can start making commission."
Both Bonavita and Kenney expressed their struggles with finding a job that paid the bills while also making enough to pay off Quinnipiac's large tuition and student loans.
When students come into school, they often aren't thinking about finding a job when they graduate because it's so far down the line. For some majors like with Devaney, Kenney and Saha, a job is tough to find, but with others a job is everything but guaranteed when they graduate.
All majors pay the same tuition, but some have better starting opportunities than others.
In a Quinnipiac survey about majors and salaries, the majority of respondents said they felt very confident they'd attain a job after graduation with only two respondents saying they felt very uncertain about getting a job.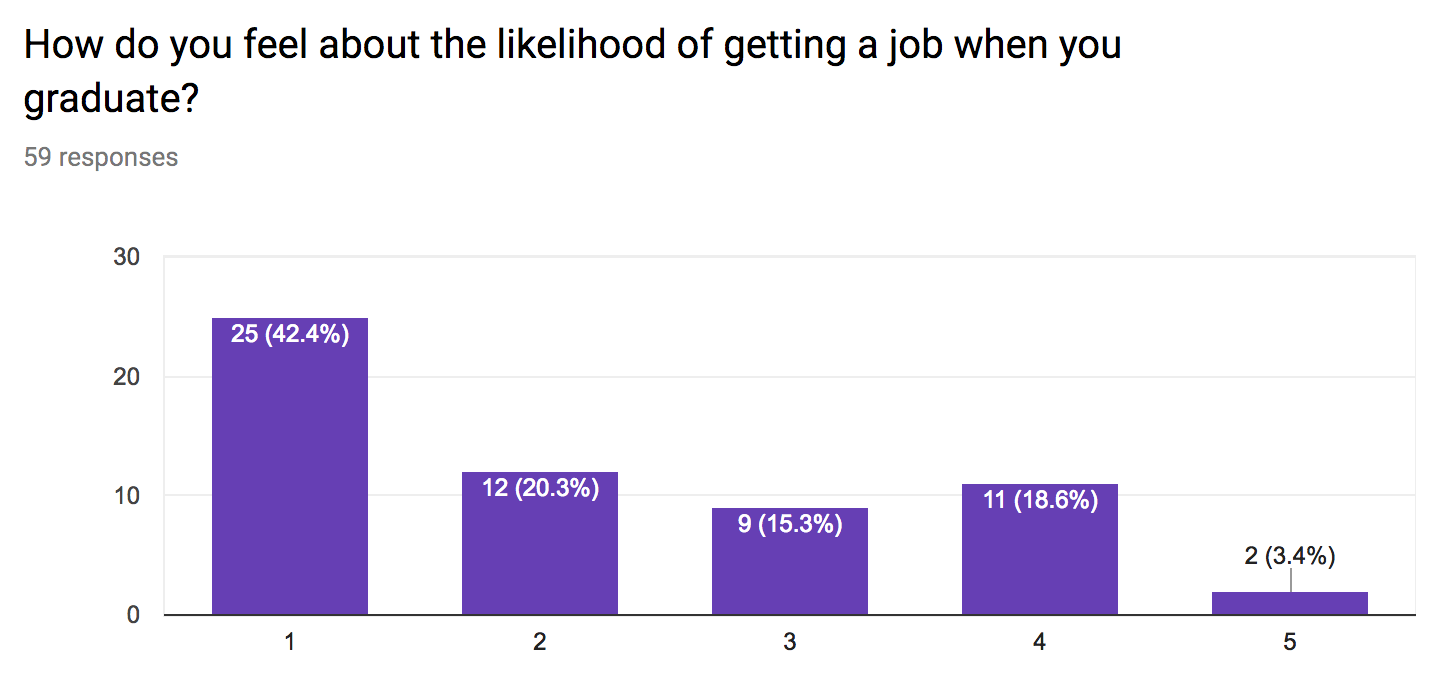 The poll went from one being very likely to five being very unlikely.
The Quinnipiac School of Communications and Engineering might hold classes for both majors, but once the classroom doors close and the jobs start, the majors couldn't be more different.
Nik Griswold, a mechanical engineering major, chose to major in engineering when he arrived on campus rather than his initial choice of business because there are more opportunities.
"I wanted to get a job so I picked engineering," Griswold said. "Demand is high, where the world is going to is very (Science Technology Engineering and Mathematics) based. Everybody wants to be technical."
Janine Jay, a computer software engineering major already has a job after graduation with Liberty Mutual Insurance in Boston after meeting with a representative at the Grace Hopper Celebration this year in Orlando, Florida.
She chose between three job offers. Jay said while engineering does have monetary benefits and she knew a starting salary was around $50,000 and moves up fast, she went in to engineering because for her, it was just fun.
"While everyone else was taking exams, I was building a video game," Jay said.
Like Jay, James Studley, a computer information systems major, accepted his first job before his senior year began, accepting an offer to work as a systems engineer for Fidelity Investments in Rhode Island.
According to Studley and Payscale.com, the average salary for a CIS major coming out of Quinnipiac is about $65,000 with a $5,000 signing bonus. Studley will be starting out making $68,500 with a $5,000 signing bonus and will have $2,000 worth of his student loans paid for by Fidelity every year for five years.
"I feel like it made this year, it like took so much stress off," Studley said. "I would be a lot more stressed right now if I was looking for a job especially with student loans starting up."